// June 16th, 2010 // No Comments » // Uncategorized
Former Guiding Light Star and Emmy nominated Actress Beth Chamberlain Joins Cast of Critically acclaimed web series Thriller CELL
Austin, Texas – 16/6/2010 – Beth Chamberlin joins the season 2 cast of Austin-based series CELL:  The Web Series. Beth is well known for her role on Guiding Light, the longest running broadcast show in television history, and she comes to CELL fresh off a 2010 Daytime Emmy nomination for her work in the final year of the show. She played Beth Raines on the long running soap opera from 1989 to 2010. However, Beth is not new to web series as she is also co-star and story consultant on the hilarious show Steamboat. She is also a certified kettle bell trainer and has two workout DVDs, The Kettle Bell Way Vol. 1 and Kettle Bell Way Vol. 2 Empire State, available from Beacon Fitness.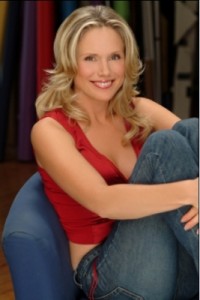 CELL: The Web Series is nearing the explosive conclusion to its freshman season with its finale going live on July 21, 2010. The series stars Jourdan Gibson, Kevin McCarthy and Danny Cameron. It is written and directed by Mark Gardner with a score by composer/conductor Brian Satterwhite.
When asked about the new addition to his already stellar cast Mark Gardner had this to say, "We're very excited to have Beth join the cast of CELL: The Web Series. CELL has worked hard to deliver excellent character based drama and an actor of Beth's caliber will help us push to the next level in creating high-quality independent drama. We hope with the inclusion of Beth Chamberlin in CELL that we can not only increase interest in what we're doing but also increase exposure and interest in independent drama all over the web to a new group of fans."
CELL has accumulated much critical acclaim in its first season and has recently surpassed 260,000 views on Koldcast TV. Lovable Varmint Productions is currently seeking additional funding and sponsors for season two.
CELL: The Web Series is proud to welcome Beth Chamberlin to the cast. Welcome to the Family, Beth and Stay Tuned!
Lovable Varmint Productions is a small band of independent writers, actors and producers taking their futures into their own hands. Our mission is to tell high-quality, engaging, original stories, with a focus on serialization, for distribution on the Internet and other new media streams. We intend to push the boundaries of new media production by advancing evolutionary models for monetization, production, and distribution of original web content.
For sponsorship, funding and press inquiries please contact Mark Gardner.