CELL nominated for 6 IAWTV Awards
December 14th, 2011

The International Academy of Web Television announced their final nominees for the Awards show in Las Vegas this January on What's Trending with Shira Lazar. I'm blown away by the fact that CELL: The Web Series received 6 nominations.

Read the rest of this page »
Writer/Director Mark Gardner selected to International Academy of Web Television Board of Directors
August 2nd, 2011
I recently found out that I was selected to be one of the new members of the International Academy of Web Television's Board of Directors. I can't tell you what an honor it is for me to be included with this group. There are so many people serving on the Board that I've looked to for inspiration and guidance over the past few years that to now suddenly be included with them is humbling to put it mildly.

In case you didn't know, the IAWTV is a non-profit organization helping shape the rapidly evolving web television industry while providing a venue for the acknowledgement of artistic and technological achievement in original entertainment distributed on the open internet. I've been working in the background with the group for a while. The organization's members voted on nominees and I was one of the five elected to a two-year term..
The four other newly selected members include Tim Shey (Director of Channels and Programming, You Tube Next Lab), Jim Louderback (CEO, Revision 3), Rob Barnett (Founder/CEO, My Damn Channel), and Jeff Koenig (Founder/CEO, OMFGeek.com). Also sitting on the Board are current members Felicia Day ("The Guild"), Dina Kaplan (blip.tv), Paul Kontonis (Digitas), Jenni Powell (Relativity Media/Rogue Pictures), George Ruiz (ICM), and Tim Street (mDialog).
This really is an exciting time to be working in web video. The IAWTV is in a position to be at the forefront of the new media world and to be a voice for the talented creators working hard to tell great stories. Now I can be a voice for the truly independent creators out there and also for people working hard to make it outside of LA or New York.
The future looks bright and I'm ready to roll up my sleeves and get to work.
Next stop… the first annual IAWTV Awards at the Venetian in Las Vegas in January!
LA Web Fest
March 30th, 2011
We just heard that CELL was recognized at this year's LA Web Fest for Outstanding Drama, Outstanding Score and Outstanding Cinematography.
Congratulations to everyone for another set of awards! Specific call outs go to the enormously talented composer Brian Satterwhite and cinematographer Iskra Valtcheva.
LA WebFest here we come!
February 14th, 2011
We just got word today that we've been accepted in the 2011 LA Web Fest.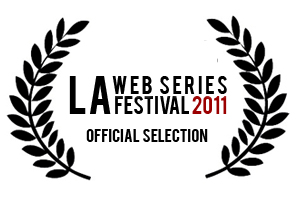 We're really excited to be a part of the festival and can't wait to see how things go. There are already some great shows included in the festival and we're proud to be included. Maybe we'll be making another trip to LA for this one.
Indie Intertube Awards RESULTS!!
January 22nd, 2011
January 20th were the Indie Intertube Awards and CELL was up for 14 awards in a field stacked with amazingly talented people. While we knew it would be tough, CELL ended up winning 6 awards and 1 special recognition award for the evening. CELL won for …
Best Set Design
Best Score
Best Supporting Actor – Drama
Best Villain
Best Actress – Drama
Best Thriller
Best Dramatic Moment
We're thrilled with our wins and the recognition that went to so many people that made Season 1 so great. Thanks to Indie Intertube for putting on such a great event and putting in so much time and effort. Here's the full list of winners.
Those Video Guys posted their review on YouTube
January 18th, 2011
In case you missed the live stream from Those Video Guys when they reviewed CELL, they just posted it on YouTube.
And here it is!
Give it a watch!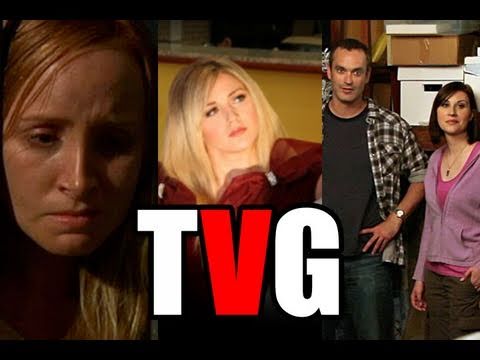 More reviews of the show coming up!
January 11th, 2011
I just got word that the guys from ThoseVideoGuys are planning to do a live review of CELL Wednesday at 2 pm CST. On their website they're asking for anyone that's seen the show to leave some comments that they can read on the air. So you have an assignment…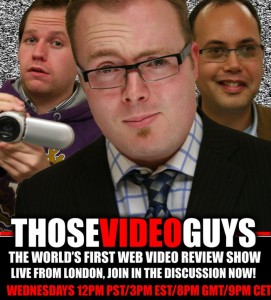 Tune in to ThoseVideoGuys at 12 PST/ 2 CST and watch the live review. (here's hoping it's a good one)
Before then, go to their web site and leave some comments about the show so they can read some on air. (here's hoping they're good ones)
More Award nominations!
January 11th, 2011
It must be awards season as the nominations just keep coming.
We're really surprised and excited to hear that we've just been nominated for 8 awards in the Indie Soap Awards. We're up for…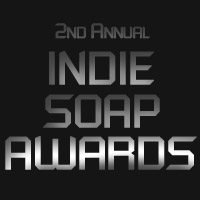 Indie Soap of the Year
Outstanding Writing
Outstanding Directing
Outstanding Lead Actor
Outstanding Lead Actress
Outstanding Sound Design
Outstanding Editing
Outstanding Guest Appearance
The awards show will be held in New York City on February 21st. Details on coming on tickets and prices.
Keep your fingers crossed for us. We're up against some amazing talent, including Robert Townsend, Tina Cesa Ward & Susan Miller, and Rachel Hip Flores… just to name a few. VERY good company to be in.
1st Annual Indie Intertube Award Nominations
January 3rd, 2011
This past year has been more than a little exciting. With the launch of CELL, joining the International Academy of Web Television, meeting so many talented creators… the list goes on. That list keeps getting longer.
One of the best sources for information and reviews of independent television on the web is through Indie Intertube. Last year they launched their show focusing on the web space and they just announced their 2010  award nominees. CELL has picked up 14 nominations for this year's awards. Here's the list…
Best Thriller
Best Directing – Drama
Best Writing – Drama
Best Actress – Drama
Best Actor – Drama
Best Supporting Actor – Drama
Best Villain
Best WTF Moment
Best Guest Appearance
Best Score
Best Editing
Best Set Design
Best Sound Design
Audience Choice Award
I can't express what an honor it is to be included in this list and in the same breath as so many of these other independent creators. The ladies with Indie Intertube are huge supporters of the web space and have a finger on what's out there. To be included in their list with some really very talented people is humbling. We'll be keeping our fingers crossed for the awards on January 20th. Until then, make sure you listen to them every week on Wednesday at 4 pm CST.
Make sure you check out the full list of nominees and watch those shows. You can see them all HERE.
The winner is…….
December 15th, 2010
Thanks to everyone for taking part in our Roku contest.
We picked one user at random from all the entries and our winner is….
Congratulations!
Everyone else keep your eyes peeled for more.